Wheelchair platform lift for home is suitable for solving disabled passengers with large height differences between floors. Platform space can accommodate both wheelchairs and escorts.APLUS wheelchair platform lift for home has the  features of  smooth running speed, high safety , easy installation. small space required & no pits required.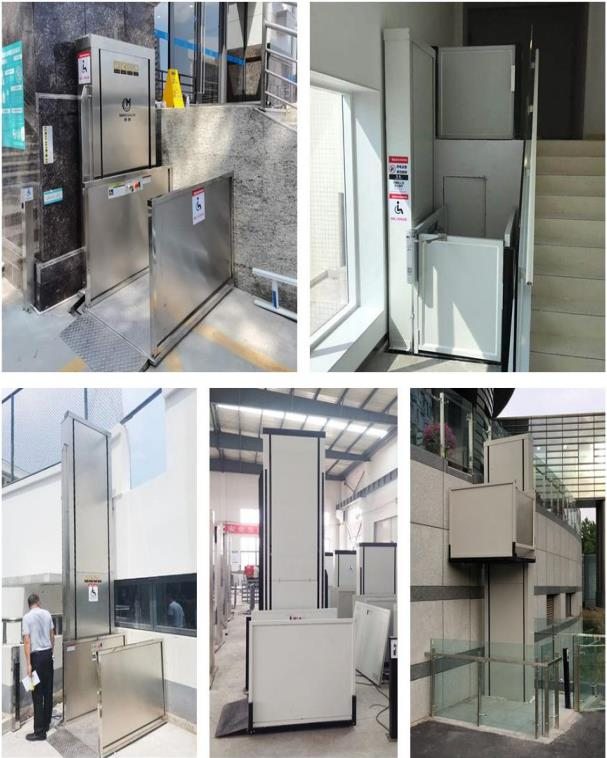 Technic Parameters and Functions
Voltage:

220V/50HZ or Customized

Overall Dimensions:

1670mm(L)×1270mm(W)×

(lifting  height+550)mm (H)  

Lifting Height:

2000mm (lifting height can be customized)

The minimum height of the lifting base plate :

60mm from the ground

Installation:

No Foundation

Lifting Speed:

60mm/s inverter control, soft start soft brake

Max Loading:

240kg

Guard Form:

90° or 180° configuration

Drive:

Screw Drive

Control SupplyVoltage:

24V/DC

Power:

2.2kw  220V/AC

Control:

Rocker Self-reset, Switch Operation

Outbound Call Form:

The upper and lower outbound call columns are installed on the ground attached to the stop floor and the equipment is linked to the control platform, running up and down or controlled by remote control.

Handril:

Matte space aluminum

Environment:

Indoor & Outdoor

Temperature:

-20°C—60°C

Appearance:

Electrostatic spraying or stainless steel plate

Color:

Customized

 

Safety Euipment

Safety  Rocker:

When the equipment runs up, the rocker will automatically tilt up to prevent the wheelchair from sliding out of the platform

Overload

Protection:

Does not operate when overloaded

Emergency Stop:

Press the emergency button switch to control the machine to run up or down.

Emergency Descent:

Electric emergency descent
Safe performance and pit-free installation design bring you the convenience of barrier-free access construction and elevator-like enjoyment. Widely used in residential quarters, hotels, restaurants, administrative office buildings, subways, banks, gymnasiums, hospitals and other public places. It has the characteristics of novel design, safety and stability, beautiful appearance, low noise, low temperature resistance, etc. In line with ASME A18-1 and CSA-B613 standards, it is well received by domestic and foreign customers.