The barrier-free lifting platform is mainly composed of a track and a lifting platform, similiar to a simple small elevator. The lifting platform can be folded and placed against the wall when not in use, so that it will not occupy the space at the entrance and exit of the passage. When the disabled in a wheelchair are in use, the four wheels of the wheelchair can be fixed on the platform, and the lifting platfrom can be controlled to enter the underground passage after preessing the switch, which is safe and convenient.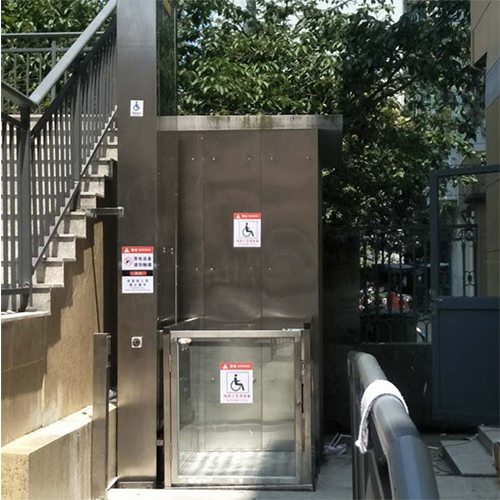 The barrier-free lifting platform has become popular with the transformation of the barrier-free environment for the disabled all over the world. Its popularity not only reflects people's care for the disabled and other vulnerable groups, but also shows the moral level of today's society.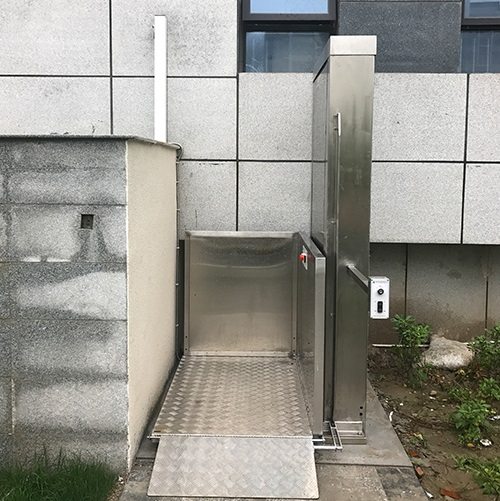 Standard Configuration
Voltage:

220V/50HZ , Customized

Overall Dimensions of the Machine:

1670mm×1260mm×(Lifting height+700)mm(L*W*H)

Lifting Base Plate Size:

1370mm(L)×920 mm(W)

Max. Lifting Height:

20000mm

The minimum height of the lifting base plate :

60mm from the ground

Installation:

No Foundation

Speed:

70mm/s-90mm/s

Max Loading:

240kg

Fence:

90°or 180°

Drive:

Hydraulic Drive

Control Supply Voltage:

24V/DC

Power:

2.2kw  220V/AC

Control:

Rocker Self-reset, Switch Operation

Outbound Call Form:

The upper and lower outbound call columns are installed on the ground attached to the stop floor and the equipment is linked to the control platform, running up and down or controlled by remote control.

Handril:

Matte space aluminum

Environment:

Indoor & Outdoor

Temperature:

-20°C—60°C

Appearance:

Electrostatic spraying or stainless steel plate

Color:

Customized

 

Safety Euipment

Safety Rocker:

When the equipment runs up, the rocker will automatically tilt up to prevent the wheelchair from sliding out of the platform

Overload Protection:

Does not operate when overloaded

Emergency Stop:

Press the emergency button switch to control the machine to run up or down.

Emergency Descent:

Electric emergency descent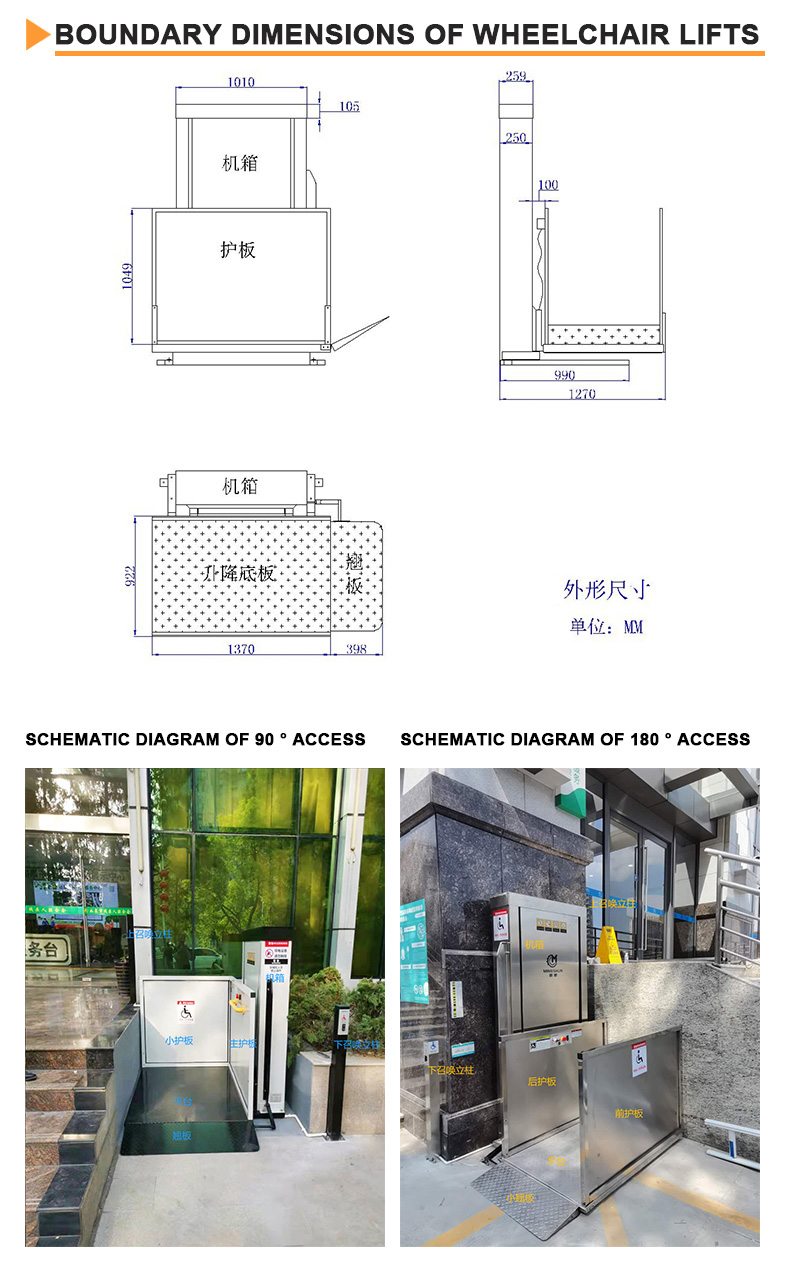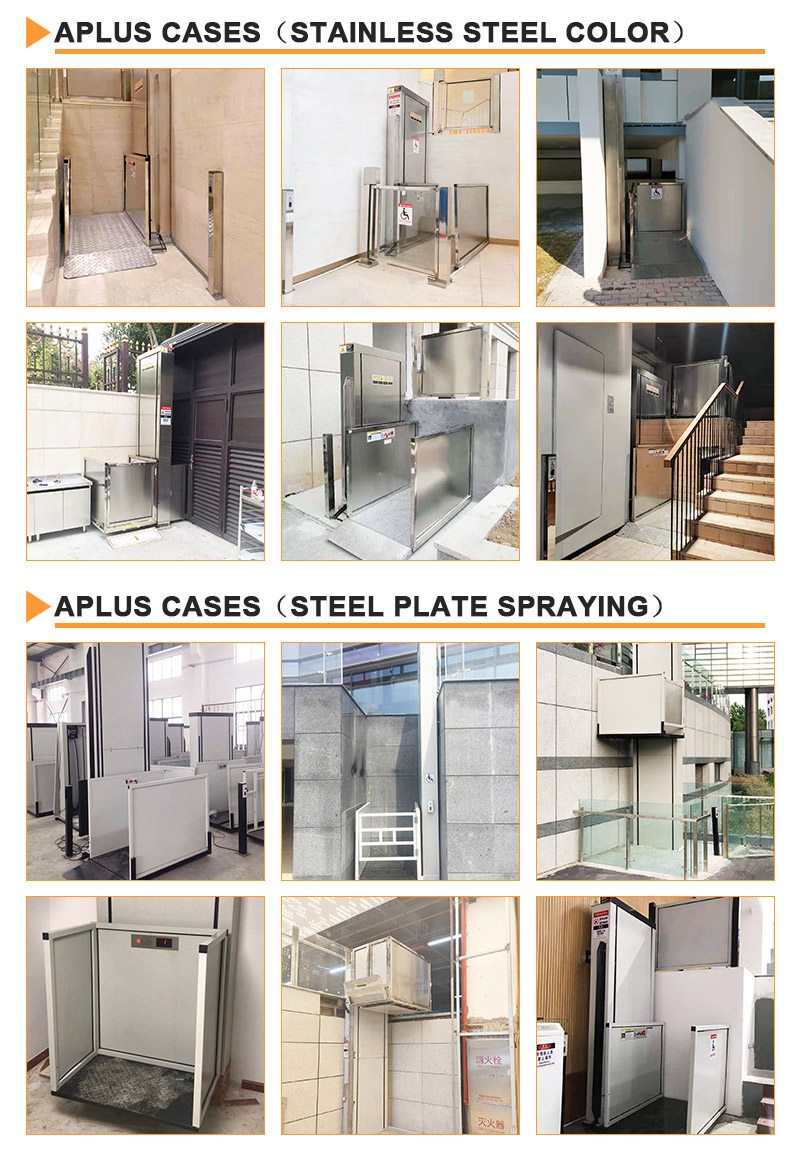 Nanjing Aplus Machinery Equipment Co, Ltd was founded in 2008 with the goal of delivering mobility and accessibility solutions to an underserved yet growing market of people with limited physical mobility. Nanjing Aplus Machinery Equipment Co. , Ltd is the leading manufacturer who is specialized in designing and producing the elevator for the disabled people.