Accessible infrastructure is crucial in creating an inclusive society that accommodates the needs of individuals with disabilities. One of the key components of accessible infrastructure is wheelchair lifts, which provide individuals using wheelchairs safe and convenient access to buildings. This article aims to explore the importance and various types of wheelchair lifts for buildings, highlighting their benefits and challenges.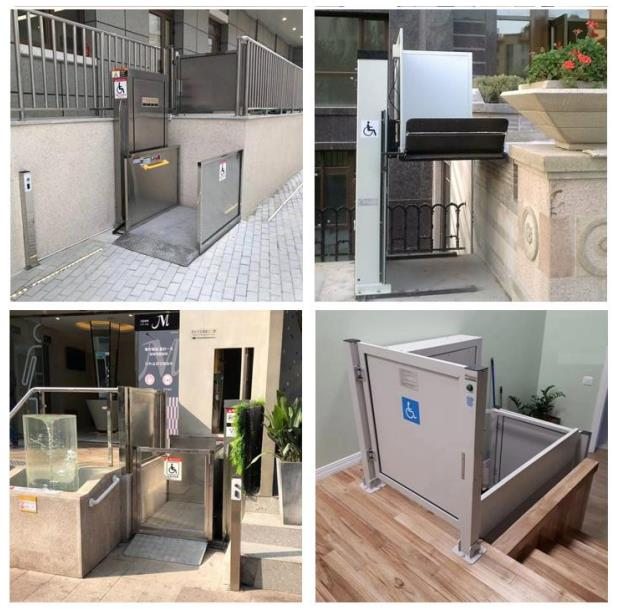 Importance of Wheelchair Lifts:
Wheelchair lifts play an essential role in ensuring that individuals with mobility challenges have equal opportunities to access various facilities within a building. They enable people using wheelchairs to navigate through otherwise inaccessible spaces such as staircases, elevated platforms, and stages. By providing wheelchair lifts, buildings can comply with accessibility regulations, promoting inclusivity and ensuring equal access for everyone.
Types of Wheelchair Lifts:
Vertical Platform Lifts: These lifts are commonly used in indoor and outdoor settings and are designed to transport individuals in wheelchairs vertically between different levels. Vertical platform lifts are commonly installed in buildings where ramps or elevators may not be feasible or cost-effective. They can be customized to fit the specific requirements of the building and are available in enclosed or open platform configurations. These lifts are versatile and provide a safe and reliable mode of transportation for wheelchair users.
Inclined Platform Lifts: Inclined platform lifts are suitable for buildings with limited space or those where vertical lifts are not feasible. These lifts are designed to transport wheelchairs along an incline, such as staircases or ramps. They typically consist of a platform where the wheelchair can be securely placed. Inclined platform lifts are often preferred in heritage buildings or areas where preserving architectural integrity is crucial.
Portable Wheelchair Lifts: As the name suggests, portable wheelchair lifts are temporary solutions that can be moved and installed as per the requirements. These lifts are ideal for situations where temporary accessibility is needed, such as during renovations or events. Portable wheelchair lifts are lightweight, easy to set up and dismantle, and do not require any structural modifications to the building. They offer flexibility while ensuring accessibility where and when needed.
Benefits and Challenges:
a. Benefits:
Improved accessibility: Wheelchair lifts provide individuals with disabilities the ability to access various levels within a building independently.
Space-saving: Wheelchair lifts can be customized to fit within the available space, allowing for more efficient utilization of the building area.
Safety: Wheelchair lifts are designed with safety features such as non-slip surfaces, protective barriers, and emergency stop buttons to ensure the safety of users.
Compliance with regulations: Installing wheelchair lifts helps buildings comply with accessibility guidelines and regulations.
b. Challenges:
Cost: The installation and maintenance costs of wheelchair lifts can be substantial, making them a potential financial burden for some building owners.
Maintenance: Regular maintenance is necessary to ensure the lifts are in proper working condition. The complexity of maintenance may pose challenges for some building owners.
Design limitations: Some buildings may have structural or design constraints that make it difficult to install wheelchair lifts without significant modifications or compromises on the aesthetic aspects.
Wheelchair lifts are instrumental in ensuring equal access and participation for people with disabilities within buildings. Their various types cater to different building layouts and requirements, offering flexible and effective accessibility solutions. Despite the challenges associated with wheelchair lift installations, the benefits they bring in terms of inclusivity and compliance with accessibility regulations far outweigh the difficulties. By embracing wheelchair lifts, buildings can contribute to a more accessible and inclusive society where everyone can enjoy their right to mobility and participatio